Nutty Dark Chocolate and Caramel, Hint of Tobacco Leaf
A lively, sweet acidity tastes of dried berries. Even stronger when cooled to room temperature. Light body with sweet caramel aftertaste.
Nuts and dark chocolate notes dominate over a very smooth, light-bodied brew. Hints of lemon zest in the finish when it cools down a bit.
Very smooth with a medium to light body. Characteristic hints of cigar smoke combines with a strong dark chocolate and roasted nut finish. 
Quietly nestled in a valley between three volcanoes on the southern coast of Guatemala lies Antigua. Long considered to be one of the top regions for coffee not just within Guatemala, but all of South America. Their secret for coffee excellent lies in the terroir.
Although being surrounded by three volcanoes sounds like a disaster waiting to happen, these mountains are really gentle giants. The trio protects the valley from inclement weather, keeping the fields at a steady temperature of 18 to 21°C. They trap in the rain clouds yet are positioned in a way that generous sunlight spills into the hills. The soil is the rich volcanic type (duh) almost making it impossible to grow anything but top-grade beans.
The result is a coffee that comes with a flavour profile that is unique for South American coffees. Most South American beans are nutty, but these ones are more complex, showing sweet berry and rare citrus flavours when roasted light. Going up the roasting scale lessens the acidity but lemon peel still shows in the nose, followed by aromas of pipe smoke. When you get to the dark levels, the sweet cigar smoke dominates with the nuttiness evaporating and turning to dark chocolate.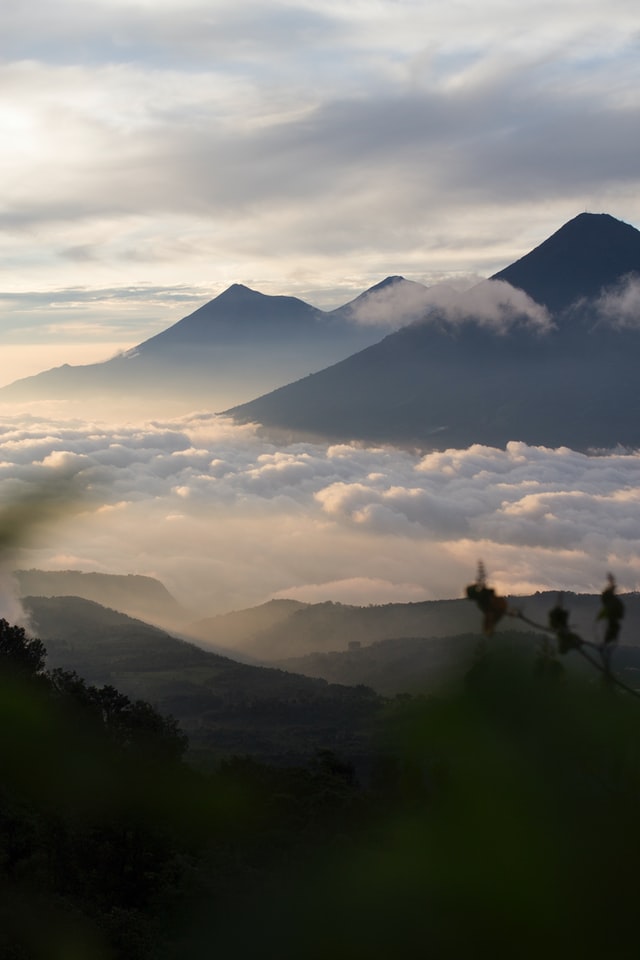 Volcano Pacaya, Antigua, Guatemala
Unsplash
Resting Your Coffee
Right after roasting, coffee needs some time to chill for a minimum of three days. Our roasting cycle ensures that when you receive the beans, it'll already have rested the minimum needed. However, the flavours will continue to improve over a time. How long? Well that depends on the roasting level you ordered.
Generally your coffee will be at it's peak after:
Light: 7-9 days after roast date
Roaster's Choice: 5-7 days after roast date
Dark: 3-5 days after roast date
But every bean and person is different so please experiment and find what works for you!
No Pre-Ground Beans?
Unfortunately no. We would love to make your experience as convenient as possible, and while grinding your own beans is firmly in the mildly to very annoying category, we simply can't do this for you.
The reason being, the second you grind your beans, you expose every nook and cranny to delicious coffee's nemesis: oxygen. Too much oxygen and your coffee can go stale before you receive it in the post.
As delicious tasting coffee is our most important product we can't take the risk of sending you a convenient but bland ground beans. Our best advice would be for you to buy a grinder.