Enjoy your coffee and time at home a bit more with the LUNA single-flower vase. 
LUNA is a single-flower vase featuring a brass plate that gently shines as though it is reflecting the moonlight. The plate supports leaves of plants and is suited for enjoying hydroponic growing of succulents.
As the plate can be removed, taking care of plants is easy. The glass vase can also be used on its own to display a small bouquet. The brass will age gracefully over time, adding richness and depth to your interior space.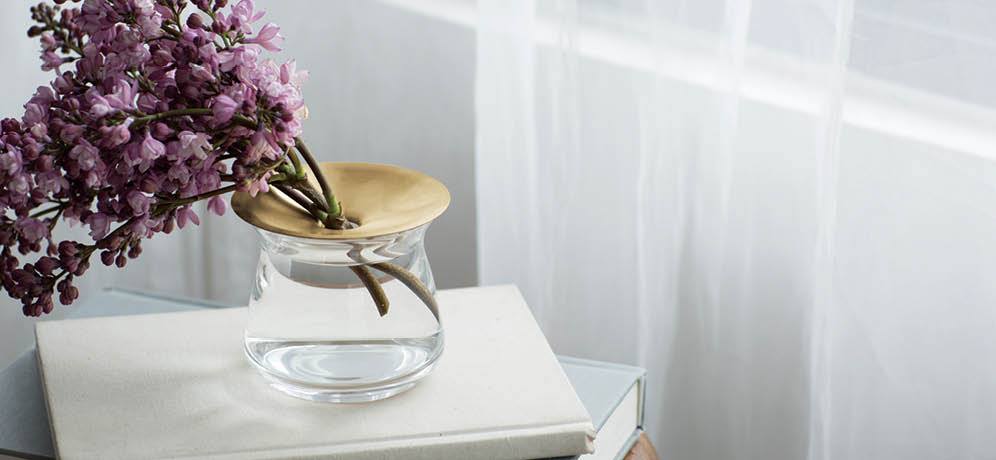 Care
Do not use abrasive cleansers or steel wool to clean or you will scratch the finishing. 
Do not use bleach as it may cause rust on brass. 
To clean wash with a neutral detergent.
Slight scratches, darkening, or dents may be found on brass.
Do not leave brass wet as humidity may cause the color to change. 
With continued use, the color of brass surface will change due to oxidation. To clean the brass, use a metal cleaner and follow its directions.
There may be a chance that green rust occurs on brass. However, it does not affect quality.
End of life
This set comes packaged in recyclable cardboard and a small plastic bag to protect the brass. When broken or no longer needed, the glass and brass can be recycled without worry as they are infinitely recyclable.
Shipping – Price includes shipping anywhere in the Hong Kong S.A.R.